The following post originally appeared on Forbes | May 11, 2015
Some folks like to get away, take a holiday from the neighborhood. Hop a flight to Miami Beach or to Hollywood. But I'm takin' a Greyhound on the Hudson River line. I'm in a New York state of mind.
Billy Joel – "New York State Of Mind"
Though it never climbed to the top of the record charts, Billy Joel's song "New York State of Mind" has become a fan favorite—New York Fans, in particular. Inspired by the pride that Joel felt when he returned home to New York after three years in Los Angeles, it captures that strong, bluesy, and somewhat hardened psychology that New York can imbue its citizens with. And while the return home of one its own may be met with open arms, the shrewdness of the city might not so accommodating to newcomers. It's a crowded place. And being the financial center of the world, there is no love lost between the established and those seeking to make their mark.
This wasn't lost on Latham & Watkins  when, in 1985, they set their sights on the Big Apple AAPL -2.02%. Success in California had fueled their growth, but with clients seeking to do business along the East Coast, they were left with a choice: Let other firms pick up that work, or set up a shop of their own. They chose the latter, and the rest is, as they say, history.
Celebrating their New York office's 30th anniversary along with their timely arrival at the summit of American Lawyer's AmLaw 100 rankings, Latham is proud of their accomplishments since they made the decision to launch in New York and other financial capitals to continue their strategy toward being the leading global law firm.  Today I speak with Latham chair, Bill Voge, and New York managing partner, Jimmy Brandt, about their expansion into New York, the city's role in the firm's success, and their take on the market, among other things. See our exchange below:
On New York's Contribution to the Firm's Success
Parnell:  I think we would all agree that New York is indeed the biggest legal market—the epicenter of the legal world, if you will. Could you talk to me about your New York office's contribution to Latham's success over the years?
Voge:  I think that goes back to why we opened in New York in the first place. When I joined Latham in 1983 there were already discussions underway about whether we should open a New York office. Back then, some of the partners thought it was a crazy idea to open in a market that had so many established law firms. Other partners observed that an increasing number of our California clients were turning to other law firms for their New York deals. In the end, the question came down to how were we going to be relevant to the next generation of our lawyers if our clients are using other firms? This was the motivation that pushed Latham to open a New York office in 1985.
In addition to recruiting Jimmy [Brandt] and a bunch of really fabulous laterals, we transferred a lot of lawyers from California. A big part of that push was nothing more than a clear decision that the only way we can achieve this is to have a presence in the city with the largest legal market in the U.S. and indeed the world.
Yes, there are many other important legal markets, and we're in a lot of those, but the demand for services in New York outstrips many other markets and I don't foresee that changing in the next 20 years.
Brandt:  It's very difficult for us to quantify the contribution of the New York office—or any office for that matter. We steadfastly try not to quantify that in the sense that we truly are a 'one-firm' firm, and so, many of our matters are staffed across offices. We are truly against the notion of having a system where you can find out "this office generated this; this office generated that." But the legal market is driven heavily by where the financial centers in the world are, and there really are only a few financial centers that are absolutely global in nature. The only one in the United States is New York. New York is that way; London is that way; Hong Kong and Singapore are certainly becoming that way. For the firms that are the greatest in the world, you need to have a strong presence in these markets.
At the time that I joined the firm we had a truly visionary managing partner: Clint Stevenson. It was Clint's vision and drive to push into New York, and it was the beginning of our push globally. As early as 1985 you would have heard Clint talking about law firms with thousands of lawyers spread around the world, which, at the time, was truly unconventional and forward-thinking. This could not be achieved in the United States, or globally, without a strong presence in New York.
On A California Firm Starting A New York Office
Parnell:  Going back to the initial push, you are a California-based firm, and I'm sure that there was a strong division between the coasts. How did you go about establishing the office? You talked a little bit about recruiting efforts. Could you get a little more granular with how exactly Latham did this?
Voge:  The executive committee mandated Henry Steinman and Randy Bassett to execute on the New York strategy. Henry determined that if we we're going to succeed in New York, we had to do it with more than a couple of lawyers.
At the time our firm had approximately 200 lawyers and 12 were sent to New York to launch the office. That was 6% of our lawyers. We also had great talent join us, like Jimmy [Brandt], Kirk Davenport, and others.
As the most established legal market in the U.S., Henry knew that we needed to have a presence pretty quickly on the ground to be competitive for the high-end work. He knew that the legal market, at the high-end, was the most competitive market in the U.S. I think that was part of the winning strategy: He didn't go small; he went big. If you did what Henry did today—relocate 6% of our 2200 lawyers—it would be pretty radical.
Brandt:  Yeah. It was an enormous move, and we're also blessed by the fact that the practice that we had out in [Los Angeles], at the time, was a very financial institution-oriented practice. In those days, Drexel Burnham Lambert and Mike Milken were located in Beverly Hills. And we had a big slug of Drexel work. Kohlberg Kravis Roberts (KKR) was bicoastal. George Roberts, KKR's co-founder, was in California and we had a big slug of KKR work. So we had knowledge and experience in the financial markets in a way that most California firms just didn't have.
We were able to bring that expertise here to New York. And with the partners who made the move—especially Henry and Randy—and with selected laterals like Phil Coviello, a highly regarded high yield lawyer, we were able to leverage those client contacts in New York in an absolutely wonderful way that ended up growing our business exponentially.
On Challenges Over The Years—Black Monday
Parnell:  Black Monday hit a few years after the office was set up. You mentioned Drexel, a large client of Latham's; they had issues very shortly thereafter. I'm sure that this was probably something that was impactful to a young office. Can you talk to me about that?
Voge:  We've been lucky that Latham, over the past 80 years, has had lot of success, and we have celebrated the success together. But our lawyers are just as good at working together, shoulder to shoulder, to make our way through the difficult times, too. Being a partner at Latham doesn't drive you anywhere other than to collectively focus on how we overcome a crisis. It's this culture that we've been able to create and sustain that I think is so important and has allowed our firm to thrive.
Brandt:  Just picking up on what Bill said, I want to make two really important points about the topic you raise. First, if you keep calm in a moment of crisis and look for opportunity in that crisis, you can get extraordinary results. To give you an example, it's absolutely true that Drexel blew up, and if you stopped the clock at that minute, you would have thought that that was a complete disaster for us. But the people who were at Drexel who were the smart clients, the people who generated wealth there, they didn't die just because the business blew up. They all went elsewhere, and our client base radically broadened because we worked with them during the crisis and followed them to their new homes.
Second, the partnership really came together at that moment in time at a cultural level. I want to just make a point that's further than the one that Bill made, which is the big business producers in the law firm at that time—the core group of people who were really responsible for driving the firm at that time—were at the forefront, working with our then managing partner, Jack Walker, to figure out how to make the law firm work and stick together and move forward. The partnership really came together in that moment, and was driven by the group of people who could have most easily profited, left, done whatever else you could think to further their own goals, but instead pulled together with the group to really make sure the law firm succeeded.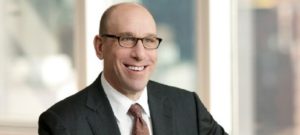 On Translating Culture Into Revenue
Parnell:  So, talking about culture, it is generally considered a softer attribute of firms, and often times I find that culture is thought of as just the environment that someone works in. But it is much more. Could you talk to me about how the culture of Latham actually translates into revenue for you?
Voge:  Well, more and more of our business comes from mandates involving lawyers staffed in multiple offices, often in multiple countries. And our clients pretty quickly realize that our lawyers—partners and associates—get along, period. Our clients see that as a very strong attribute, and it is one of the reasons they want to work with us.
I spend a lot of time, now, talking to clients, asking them to compare us with other law firms: What could we do better? How could we change? Where are we stronger? Frequently, they comment on how the Latham lawyers work well together. There aren't silos. There aren't five people fighting amongst themselves. They say "We see Latham lawyers happy in their job; happy to be a member of the team, and not looking to be the star." I think culture does make a meaningful difference on the ability to keep clients happy and to build strong teams.
Brandt:  The reality of it is that if you want to grow one of the biggest institutional clients that we all cherish at this point—whether it's a global investment bank or a big company-side client—you're not going to do it with one or two people. It has to be a team effort. I'm not going to say that you can't get hired for a litigation matter because, maybe, you've got a person who's a particular leader in an area. But, you can't make a major institution your law firm's client by having one star. It's a totally unrealistic way to proceed.
Also, we feel like one of our strengths is the quality of our senior associates and our junior partners. That's the place where we really distinguish ourselves. If you've got a star system where you're not pushing responsibility down, or working hand in hand with everyone on the team, you don't get the overall quality, or level of responsibility, or client-service that we've been able to achieve.
On Latham's Modified Lockstep Compensation Model
Parnell:  So, in essence we're talking about cohesion, and this delves into your compensation. I understand that you have a modified lockstep system, which a lot of firms have moved away from. Could you talk to me about that? Have you seen challenges with your recruiting efforts, for instance, in getting in big rainmaking laterals as a result of this?
Voge:  We have a modified lockstep. There are firms that have abandoned lockstep. It is one of the big challenges facing big law firms today, where firms are really stretching the compensation from the youngest partners to the most senior compensated partners. Short-term, it may make sense for those law firms. But long-term, it doesn't make sense. At some point when you stretch the compensation where your most highly compensated partner to your youngest is 15 to 1, or 12 to 1, you lose the attributes of a partnership.
You have your most junior partners looking like employees and not like partners. And so we've had a few lateral partners that may have made decisions purely based on compensation and went elsewhere because of that; where we would not give them the income assurance they might get somewhere else. But long term, if you're trying to keep a stable partnership, you have to maintain all the attributes of a partnership. And once you're in the double digit ratios, I think you can't say you're truly a partnership.
Brandt:  Right, and apropos of the point that you were making earlier about our culture, that is a cradle-to-grave issue for us. We bring up associates within our culture. We laterally hire lawyers who share our values and who we feel will strengthen our culture.
On Incentivized Attributes
Parnell:  Just to be concise, what are the particular attributes that a compensation model like this incentivizes?
Voge:  Our compensation model fosters deep loyalty, encourages teamwork, and supports collaboration. Our compensation system is a key hallmark of our culture and is central to our success. I think that the spate of mergers and combinations and the "corportization" of law firms has raised the question about what is the true nature of a partnership. Our transformative growth has been without merger, which has allowed us to stay true to the founding principles of our firm: meritocratic compensation system, transparency, and teamwork, among others.
Brandt:  I agree with Bill. Moreover, when you talk about a compensation system, the effort is to incentivize everyone. If the only person that you are trying to incentivize is the person at the top of the totem pole, you're losing out on a vast amount of productivity among an awful lot of people. So you also want to have your most junior people, or the people who may not be responsible for a particular client relationship, or a person who is primarily a service oriented partner but also has some amount of business, whatever it is, you want all of them to dig their oars deep in the water and be pulling them in the same direction.
On Monitoring Performance
Parnell:  One of the potential challenges with the lockstep model is social loafing. How exactly are you monitoring performance? Is it a cultural thing—mutual monitoring and adjustment? Is it a governance thing? Are there particular policies and procedures? How are you guys doing that?
Voge:  I would say that we're probably in the upper 5% of major law firm partnerships with respect to the time that we put into performance evaluations of our partners. We have an elaborate analysis of partners' performance at the end of the year that's much closer to the consulting sector than it is to the legal market.
No partner at Latham gets through a year without a very deep analysis through an almost 360° review: A combination of evaluations from office managing partners, department heads, practice group chairs, and executive committee reviews and analyses. We think that any professional services enterprise, to keep up their quality, has to maintain a very stringent performance evaluation. We haven't deviated in any way in almost a half century from that.
Brandt:  That's all true, but much more important than the months of evaluation with a lot of input by a lot of people is the fact that we are radically transparent with the results of the process, the compensation, and a lot of information relating to it.
So, if the executive committee, if Bill [Voge], if the office managing partners, if the global department chairs, or whoever it is, are getting it wrong, and compensation for particular people or groups of people does not make sense, then people are not shy about letting us know, and it's not a mistake that gets made for very long.
On Their Strategy Over The Next 5 Years
Parnell:  Looking at New York in particular, and then perhaps globally, if you're open to talking about it, what are your priorities over the next 3, 4, or 5 years?
Brandt:  Reflecting on our growth in New York in the past 30 years, we've gotten to the point where we're one of the biggest and most successful law firms in the city. In terms of pure size we are just outside the top 10 at this point. We are an elite, big firm practice looking to remain at the very top of our market.
We have a core area of super strength spanning transactional and litigation practices that we've been building up over the last ten years or so. In addition, we've been adding to our financial regulatory practice in New York. I would say that one priority for us is to get ourselves positioned—and we're well on the way—to where our regulatory practice is widely recognized as the best in the city. We are knocking on that door and are pretty close to that. If you talk to the big financial institutions and ask them for their short list of top law firms, we're on it.
Voge:  I would add to that, if you went out and polled the managing partners and leadership at some of the top-named, old-line New York law firms, none of them would be able to shy away from putting Latham in their camp. And I would add that we have room to grow and to build on our success. We believe there is a lot of capacity in the New York market, and our global platform positions us well to tap into this opportunity.
There have been a number of interesting developments in the legal markets in New York, London, and globally, in the past decade. There has been a sea change in the competitive landscape. The decisions we have taken—to expand in New York, to expand globally—have been transformative for the law firm and have positioned us well to seize opportunities in an increasingly interconnected global economy. This will allow us to give the younger generation partners the same exciting work that we had.
It's about building a platform that allows us to stay relevant for the evolving needs of our clients. And that's what drives us, David: We want to make it so that our youngest partners, and associates that will be made partners five years from now and ten years from now, have an opportunity to really participate in the most complex, sophisticated legal matters going on in the U.S. and globally. We're confident that we're going to be able to deliver that.